Our Alert is
Alliance Creative Group, Inc. - ACGX
Hello Traders,
After ending last week with an alert that had real gains of over 1,100% I know that everyone has high expectations for my next pick. I have spent the entire weekend researching my new play and have finally found something that I believe could produce Monster Gains!
ACGX is currently priced at $.0019 and has a small market cap of $230k. The company reported First Quarter Revenues of $2,457,105 for 2013 and a Gross Quarterly Profit of $683,515!
About ACGX - Alliance Creative Group, Inc.
The Company is currently a printing, packaging, product development, management, and procurement company. our strategic mission is to utilize a unique blend of products, services, and relationships to increase value for both clients and shareholders. Management is now focused on generating sales revenue and profits and creating a high quality customer experience. The Company key services include creative design, printing, packaging, direct mail, product development, supply chain management, project management, event marketing, business consulting and strategic marketing and fulfillment, assembly, and kitting.
The Alliance Creative Group, Inc started as an online marketing company in 2000. It acquired the IMAGE brands and expanded their marketing tools in June of 2008 to offer clients the ability to showcase and market their IMAGE in print, online and at live events. The company owned a fashion entertainment magazine (called IMAGE) and a full event planning and marketing arm.
On December 1, 2009 the Company acquired St. Louis Packaging and STL Graphics. This acquisition helped the companies utilize the economies of scale and share some common overhead, employees and operating expenses. The acquisition also allowed the companies to market multiple services together while reducing overall future liabilities and improve future cash flows. STL Graphics Group is a full-service web and sheet-fed printing group that has the capacity to run 24 hours a day, 7 days a week. STL Graphics uses the latest technologies to service a wide variety of businesses and printing projects. St. Louis Packaging is an established business that had been operating for over 13 years (as of 2009) with extensive experience in industrial and retail packaging with customizable inventory management programs utilizing 5 strategic warehouse locations nationwide.
On November 1, 2010 The Company acquired specific assets of Snap Graphics and later launched a new website www.SnapGraphics.com. Some of the assets included commercial printers, equipment, supplies, customer lists, domains and a company cargo van. The website www.SnapGraphics.com is currently live and taking orders for all types of printing products including but not limited to: banners, business cards, brochures, postcards, flyers and more.
The company is comprised of eight key components:
Creative & Design
Packaging - Flexible, Folding Cartons, Thermoforming & Corrugate
Supply Chain Management - Inventory, Distribution and Logistics (JIT)
Printing - Commercial Offset, Large Format and Digital On Demand
Direct Mail
Fulfillment, Assembly and Kitting
Brand Development & Management - PR & Marketing
Business Consulting & Strategic Marketing
These core business units allow for supply chain synergy and a one-stop- shop approach for clients to achieve their strategic marketing objectives. Vertical integration and cross promotion between company sectors allows ACG to share resources, maximize efficiencies, and utilize economies of scale. These components improve buying power for the corporation and increase value for both clients and shareholders.
Why ACGX?
ACGX offers more than other marketing firms or general consults because we can help develop business and marketing plans, draft press releases, create and maintain social media campaigns, provide funding, make introductions to investment bankers or other funding and take companies public. ACGX helps with business Development, Strategic Planning, Marketing and Product Development.
Market Outlook
Consumer packaged goods account for an estimated $2.1 Trillion of revenue?to the U.S. economy. Every product that is created comes in some sort of package.?It may be in a box or a bag, a clamshell or a blister pack, a bottle or a combination?of the above. They may have stickers or labels or be displayed on a shelf or a hook but at the end of the day they come in some sort of packaging or display. When it comes to printing the industry includes all types of products like magazines, manuals, brochure, business cards, banner, flyers and 100's of other types of items.
Together the printing and packaging industries sell over $200 billion worth of products every year and that number has been increasing.
ACGX is a low float stock that could produce massive potential gains for traders! If you look at the stock below you can see it indicates that ACGX is on the verge of a Major Breakout!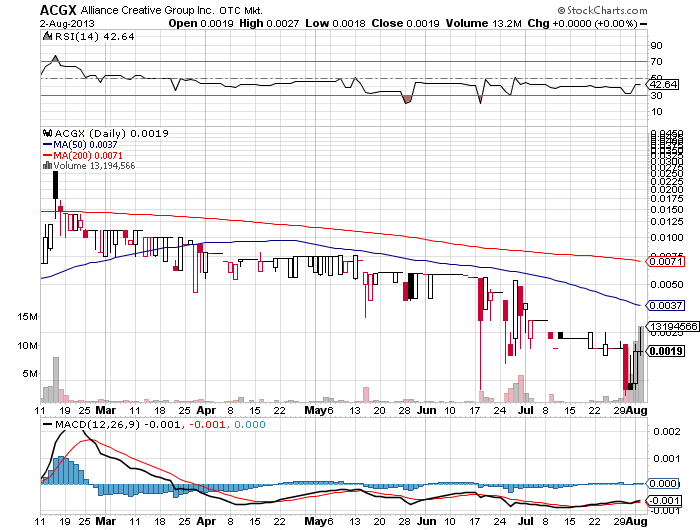 ACGX has a similar set-up to ANSU my pick from Friday that had Quadruple Digit Gains! Don't miss out on another great opportunity start your research immediately!
***Please sign up for my FREE Text Message list***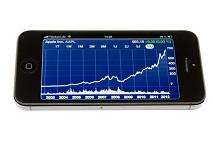 Emails tend to take too long to be received and my alerts immediately start gaining momentum when the market opens. By signing up to my text messages you will receive my alerts at 9:30am EST every time!
Just text the words "StockAlerts" to "96362" and start
Receiving alerts immediately on your phone.
---
Disclaimer
Never invest in any stock featured on our site or emails unless you can afford to lose your entire investment.
The disclaimer is to be read and fully understood before using our site, or joining our email list.
PLEASE NOTE WELL: This report is for information purposes only, and is neither a solicitation nor recommendation to buy nor an offer to sell securities. pennystockpickalert.com and its employees are not a registered investment advisor and is not a broker-dealer in any jurisdiction whatsoever. Full disclaimer can be read at http://www.pennystockpickalert.com/disclaimer
Release of Liability:
Through use of this website viewing or using you agree to hold pennystockpickalert.com, its operators owners and employees harmless and to completely release them from any and all liability due to any and all loss (monetary or otherwise), damage (monetary or otherwise), or injury (monetary or otherwise) that you may incur. The information contained herein is based on sources which we believe to be reliable but is not guaranteed by us as being accurate and does not purport to be a complete statement or summary of the available data. pennystockpickalert.com's affiliates may from time to time have a position in the securities mentioned herein and may increase or decrease such positions without notice. Any information, opinions and analysis contained herein are based upon sources believed to be reliable, but no representation, expressed or implied, is made as to its accuracy, completeness or correctness. The opinions contained herein reflect our current judgment and are subject to change without notice. pennystockpickalert.com accepts no liability for any losses arising from an investor's reliance on the use of this material. All information on featured companies is provided by the companies profiled, or is available from public sources and pennystockpickalert.com makes no representations, warranties or guarantees as to the accuracy or completeness of the disclosure by the profiled companies. Any claims or Statements should be deemed apocryphal. pennystockpickalert.com encourages readers and investors to supplement the information in these reports with independent research and other pro advice.