Today's Alert is
Itonis Inc. - ITNS
Hello Traders,
My Brand New Sub-Penny Alert for today is ITNS! Get ready to watch the magic on this one. The stock closed yesterday at $0.0057 and is ready to run.
ITNS made its way to the top of my watchlist recently as several developments came into play. With the exciting direction of the company mixed with an amazing technical setup, I believe that we have a perfect scenario for readers. The stock looks ready for a big breakout and heavy activity could fuel ITNS to make a major price surge!
Itonis, Inc. is a California based holding company that is embarking on an aggressive acquisition plan to purchase high growth entrepreneurial companies, which are establishing themselves as leaders in various market niches. ITNS has an impressive management team in place, which can lead the company to a successful and profitable future.
ITNS has huge developments happening within the company. The company is in conjunction with Charles Hensley, PH.D, the investor of the Ziacam Cold Remedy, have formed an entirely new division! This recent news is sure to attract considerable attention from investors.
ITNS is truly extraordinary. The company has a very divers portfolio giving this alert incredible potential! Not only does ITNS own Paramount Discoveries and Itonis Pharmaceuticals, the company recently created a new subsidiary as well. ITNS created the AppRocket, a new Mobile App that will allow the company to operate in a $13 Billion Dollar Industry!
Paramount Discoveries
Paramount Discoveries, Inc. is a scientific research company originally founded in 1995 by Stuart Robbins. The company is the culmination of more than 16 years of dedicated research to develop a process that can stimulate magnetism in several common natural elements and minerals.
The technology behind Paramount Discoveries, Inc. ("PDI") has demonstrated high-revenue potential through its discovery of electro-magnetic frequency technologies that enable unprecedented processes through the ability to magnetize carbon, salt, and silver. The ability to magnetize carbon, salt, and silver is expected to enhance countless industrial, agricultural, and manufacturing processes with more efficient and environment-friendly applications. PDI is currently developing and making available its technologies for immediate licensing with the anticipation of achieving robust revenues and substantial returns to its shareholders. The Company acquired PDI through a share exchange arrangement without incurring any financing debt.
Itonis Pharmaceuticals
Itonis pharmaceuticals was created as a new division of Itonis, Inc. in collaboration with world-famous Dr. Charles Hensley, the inventor of the Zicam® Cold Remedy. This innovative pharmaceutical organization will produce and market prescription homeopathic preparations and over-the-counter products to treat chronic diseases and common ailments. The company will select products based on the speed to market seeking to bypass where appropriate the traditional and lengthy FDA approval process, while still maintaining the strictest levels of both safety and efficacy.
Dr. Hensley is a pioneer in the development and marketing of safe and effective therapeutic nutraceutical and homeopathic preparations. He was a founder of Geltech, LLC, the company that launched the Zicam® Cold Remedy, making the product a household name and forever changing the marketing and product placement paradigm for homeopathic drugs in the United States. Dr. Hensley and his team plan to use the same methodologies to revolutionize the treatment of several other common ailments and other chronic diseases.
App Rocket
AppRocket fills a need in the apps marketplace as a consolidated online portal for PC and Mac apps.
The Company has been quietly developing AppRocket internally as a new subsidiary that will be home to a catalog of proprietary mobile apps and will include several key and unique features that will serve as a springboard for AppRocket's several mobile apps. Additionally, it will focus on consumer technology and will attract visitors to create an online community with news and reviews.
ITNS subsidiaries show endless potential for growth. The company has released several announcements over the past 6 months. For a complete list of recent news read here http://finance.yahoo.com/q/p?s=ITNS.
Now let's take a minute to analyze the chart.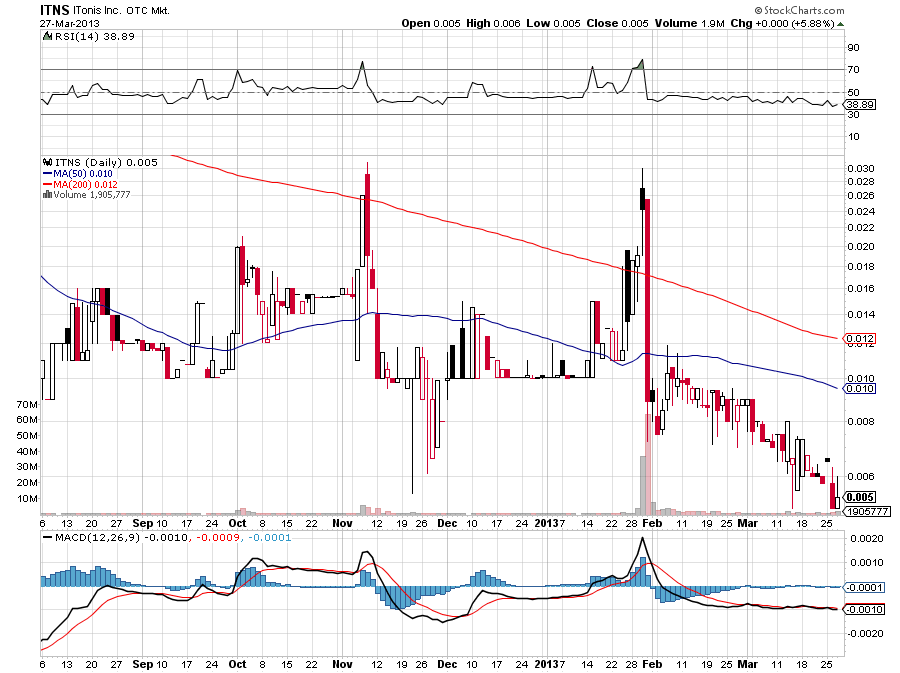 ITNS was trading at $0.03 back in early February. With strong momentum we could see this stock soar to these levels again today. This would represent incredible triple digit gains for readers.
ITNS has everything I look for in an alert and More! Not only does the company operate in several high-growth industries, but the chart shows indicators for a huge breakout as well.
Put
ITNS
on your watchlist immediately and start your research.
***Please sign up for my FREE Text Message list***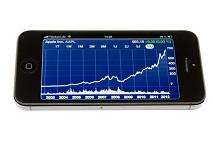 Emails tend to take too long to be received and my alerts immediately start gaining momentum when the market opens. By signing up to my text messages you will receive my alerts at 9:30am EST every time!
Just text the words "StockAlerts" to "96362" and start
Receiving alerts immediately on your phone.
---
Disclaimer
Never invest in any stock featured on our site or emails unless you can afford to lose your entire investment.
The disclaimer is to be read and fully understood before using our site, or joining our email list.
PLEASE NOTE WELL: This report is for information purposes only, and is neither a solicitation nor recommendation to buy nor an offer to sell securities. and its employees are not a registered investment advisor and is not a broker-dealer in any jurisdiction whatsoever. Full disclaimer can be read at http://www./disclaimer
Release of Liability:
Through use of this website viewing or using you agree to hold , its operators owners and employees harmless and to completely release them from any and all liability due to any and all loss (monetary or otherwise), damage (monetary or otherwise), or injury (monetary or otherwise) that you may incur. The information contained herein is based on sources which we believe to be reliable but is not guaranteed by us as being accurate and does not purport to be a complete statement or summary of the available data. 's affiliates may from time to time have a position in the securities mentioned herein and may increase or decrease such positions without notice. Any information, opinions and analysis contained herein are based upon sources believed to be reliable, but no representation, expressed or implied, is made as to its accuracy, completeness or correctness. The opinions contained herein reflect our current judgment and are subject to change without notice. accepts no liability for any losses arising from an investor's reliance on the use of this material. has agreed to be compensated fifteen thousand dollars for a one day public awareness marketing campaign for ITNS from the third party StockMister LLC. Consequently, has an inherent conflict of interest in publishing this report. Upon receipt of the ITNS shares, the third party and/or their related persons and affiliated entities will sell shares of common stock of ITNS in the open market at any time without notice. In some instances the third party identified herein has bought and sold, is buying and selling and will buy and sell shares of the featured company's shares. will not update any purchases and sales of any shares of the company profiled in any future postings on emails, website or other medium utilized to feature or disseminate information. Your purchase of ITNS shares will likely increase the value of your position in ITNS shares. and/or the third party, its related persons and affiliated entities, and sales by ITNS will likely decrease the value of your position in ITNS shares. does not set price targets on securities. All information on featured companies is provided by the companies profiled, or is available from public sources and makes no representations, warranties or guarantees as to the accuracy or completeness of the disclosure by the profiled companies. Any claims or Statements should be deemed apocryphal. encourages readers and investors to supplement the information in these reports with independent research and other pro advice.